Back to top
Year 7 - Year 12
King's Park Campus is designed to provide a dynamic learning experience for students Year 7-12. The specialised facilities and beautifully landscaped grounds contribute to creating a schooling environment that encourages the personal, social and academic development of our students.
We offer our students every opportunity to excel both inside and outside the classroom, but most of all we offer them the chance to develop at their own pace, and to be themselves.

Our Senior Students are taught to become, self-directed strategic producers, responsive communicators, creative, reflective investigators, empathic servant leaders and resilient problem solvers.

King's Park has rapidly developed since it was established in 1988, and currently caters for students Year 7 – 12. Mackay Christian College caters for students from Early Learning Centre (Kindy) to Year 12. The College is located in tropical North Queensland and spans across two campuses, 'King's Park' & 'Providence'. King's Park and Providence campuses are located within 850m of each other making travel between the two campuses very quick and easy to navigate. We invite you to take a walk through either campus to not only experience the stunning gardens but also gain an appreciation of the first class facilities provided for our students.
You will quickly realise the enormous depth of resources available to your child as we help them achieve their full potential and become all God wants them to be. Modern, brightly coloured, architecturally designed buildings offer generous classroom and teaching spaces and foster a friendly, uplifting and personal learning environment.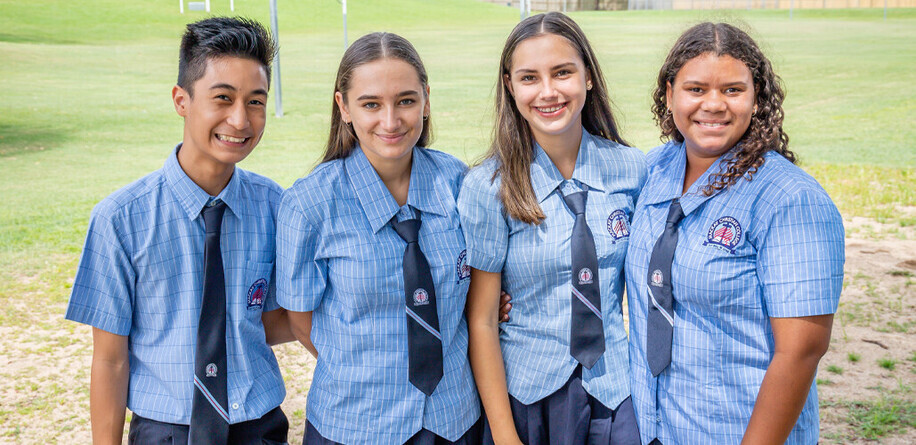 At Mackay Christian College you will see we place a high value on relationships, Christian values, owning your own learning and creating and owning your own unique pathway. You will feel like you belong at Mackay Christian College.
Year 7 to Year 9
Middle School students need to take risks and have a social context for their learning.
Welcome to Middle School at Mackay Christian College. Traditionally we gain a lot of new students in these years and these new people could potentially become your new best friends.
Our Middle School creates a gentle and safe introduction to High School. Year 7 students will have specialist teachers for some of their core subjects and all electives. Year 8 and 9 will have different specialist teachers for each subject and move rooms nearly every lesson.
You will need to be very organised as you grow into a more mature student and will take increased responsibility for your learning choices. Using your iPad you will need to record your timetable, homework, assessment due dates and other important information.
Middle School learners begin to taper their choices and formulate ideas about their future and a pathway that suits their interests, needs and learning styles. A wide range of elective choices allow this to occur, along with an extensive co-curricular and enrichment/extension program, including a vast range of cultural, music, drama and sporting selections.
In Year 7, 8 and 9 you will be able to attend a three day outdoor adventure camp. These camps progress in the level of independence and the degree of personal challenge as we help you develop resilience and character.
As you start to think about your elective subjects and make choices it is good to consider what your future may look like. These subject choices in Middle School provide an opportunity to try new subjects, develop your gifts and talents and work out what you might like in a job or your future learning.
Within the Middle School traditional classrooms there is a developing educational approach that is giving way to learning studios and break-out spaces where independent study, peer tutoring, group collaborative work, project-based learning and technology-based learning occur. These approaches for learning provide for different learning styles and facilitate innovative teaching strategies.
Critical, creative and reflective thinking skills are developed through learning experiences based around the Middle School student's need to take risks, have a social context for their learning and is drawn from the College's curriculum. Innovative learning spaces and future-focused technologies support learning at levels not previously available to students in Middle School.
Our vision to work with parents and carers to support students to become, self-directed strategic producers, responsive communicators, creative, reflective investigators, empathic servant leaders and resilient problem solvers.
Year 10 to Year 12
Ensuring students are fully equipped to tackle the range of possible futures ahead of them.
Senior School at Mackay Christian College is the journey through Year 10, 11 and 12. Here we focus on assisting students to make a successful transition from school into the world of work and further education.
Our goal is that all students will discover their individual pathway to a fulfilling and constructive future as they find their place in the world. Our focus is not only on encouraging students to achieve their best in the classroom but to challenge their character, bringing them to a maturity from which they can start down the pathway God has laid out for them.
A vast array of learning experiences is offered in the Senior School to match each student´s needs and interests. Through the many programs, subjects and activities offered, we seek to ensure our students are actively engaged in their learning and leave the College with highly developed communication skills and confidence in their own abilities, fully equipped to tackle the range of possible futures ahead of them.
In these critical years, we aim to foster and encourage independence and creativity in thinking, leadership development, community commitment and an excitement for learning.
A broad range of subject offerings means that all students can explore their passions and interests. Learning occurs in many places and it is for this reason we are committed to ongoing programs of Community Service, Work Experience, Education Outdoors and Leadership, including Peer Support.
These opportunities place great value on the development of collaborative partnerships whilst fostering individual capacity and commitment to excellence.